Why Choose M3Tools
M3Tools™ is one a world leader for industrial quality cutting tools used by woodworking professionals & enthusiasts, architects, sign builders, cabinetmakers, stage & set builders. We offer solutions for woodworking, plastics, aluminum, composite, aviation, boating, recreational vehicles, ski & snowboard industries. Our number one job is to help you advance your business. More about us...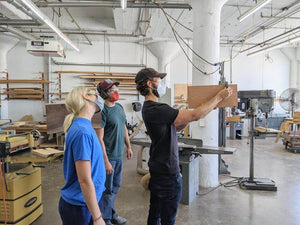 M3™ Tools Co., Ltd.
Add: No. 288, Qiuyi Road, Changhe Street, Binjiang, Hangzhou, Zhejiang P.R. China.
Why Carbide Tools?
Cemented carbide is a hard material used extensively as cutting tool material, as well as other industrial applications. It consists of fine particles of carbide cemented into a composite by a binder metal. Cemented carbides commonly use tungsten carbide (WC), titanium carbide (TiC), or tantalum carbide (TaC) as the aggregate. Mentions of "carbide" or "tungsten carbide" in industrial contexts usually refer to these cemented composites.
Most of the time, carbide cutters will leave a better surface finish on the part, and allow faster machining than high-speed steel or other tool steels. Carbide tools can withstand higher temperatures at the cutter-workpiece interface than standard high-speed steel tools (which is a principal reason for the faster machining). Carbide is usually superior for the cutting of tough materials such as carbon steel or stainless steel, as well as in situations where other cutting tools would wear away faster, such as high-quantity production runs.
1. Carbide tipped tools retain their cutting edge hardness at high machining temperatures generated by high cutting speeds and feeds that reduce machining cycle time.
2. Carbide tipped tools improve surface finish and hold size far longer for better quality.
3. Carbide tipped tools last far longer because the carbide chip forming surface resists wear as the chip flows over the tools. This greatly reduces need for costly changes with increased scrap and rework.
4. Carbide tipped tools should always be used when machining highly abrasive materials.
Drill Bit Terminology
American National Standard B94.11M-1993 covers the relevant information relating to drill bits, including sizes, tolerances, nomenclature, and definitions. Below is a summary of some of the key terminology relating to Drill Bits.
1. Axis – refers to a centerline running down the middle of the drill bit longitudinally from the point of the drill bit to the end of the body.
2. Back taper – is a reduction in the drill bit's diameter that occurs from the point of the drill bit to the end of the drill bit body. Most drill bits are machined with a small back taper to prevent the bit from binding in the workpiece when the drill bit becomes worn.
3. Body – refers to the portion of the drill bit that extends from the neck to the outer edges of the cutting lips and which contains the flutes.
4. Drill Diameter – the overall diameter of the drill bit measured at the point of the drill up to the margins.
5. Flutes – are the grooves that are formed in the drill bit which serve to allow the removal of chips from the hole being cut and to allow cutting fluid to reach the cutting lips of the bit. Flutes are usually helically shaped or straight cut.
6. Overall length – is the distance measured from the extreme end of the shank to the outer corners of the cutting lips. Note that this measurement excludes the conical shank end and the conical cutting point at the tip of the drill bit.
7. Point angle – the angle that is formed between the lips when a projection is made onto a planar surface that runs parallel to the axis of the drill bit and to the cutting lips.
8. Shank – the portion of the drill bit by which it is held in place and driven, i.e. the portion that does not contain flutes.

Drill Bits Materials
High-Speed Steel (HSS) is a popular material good for drilling into soft steels as well as wood and plastic. IT's an economical solution for most maintenance drilling applications.
Cobalt (HSCO) is considered an upgrade from HSS because it includes 5-8% Cobalt blended into the base material. This is a great option for drilling into harder steel as well as stainless steel grades.
Carbide (Carb) is the hardest and most brittle of the drill bit materials. It's used mostly for production drilling where a high-quality tool holder and equipment is used. It should not be used in hand drills or even drill presses. These drill bits are designed for the most demanding and hardest materials.
Our Specialty Router Bits and Sets
If you're just starting out, the five essential bits listed above or a quality set can be an excellent place to start. However, there are many more router bits on the market. Here are a few specialty router bits you can buy, as well as how they can be used:
Cabinet door router bit sets: Typically made for raised panel cabinet doors, cabinet door router bits are purpose-specific tools that can make cabinet work easier. Standard sets include four pieces.
Fiberglass router bits: Trim fiberglass laminate boards with ease. Having these handy can also keep you from damaging your more delicate bits with hard fiberglass.
Finger joint bits: Capable of helping you create finger joints, these are sometimes used for cabinet drawers and similar items where two pieces of wood must be joined.
Frame and panel or stile and rail router bits: Frame and panel router bits are commonly used to add decorative elements to furniture and cabinetry.
Handrail router bits: These are used to provide decorative details and accents for staircases and handrails.
Keyhole router bits: These are used to create slots for hanging picture frames and decorative wood pieces.
Laminate router bits: Made for laminate and veneer cutting, this specialized router bit is often used for creating or repairing plastic laminate furniture pieces.
MDF router bits: These make clean cuts in MDF, which can be a problematic material for router bits designed for natural wood.
Metal router bits: Similar to standard woodworking router bits, these harder bits are designed specifically for use with certain types of metal.
Plywood router bits: These are designed specifically for making cuts in plywood, these can be useful for cabinet-making, furniture and more.
Tongue and groove router bit sets: These are designed to help you create even, flat joints for flooring, wainscoting, wood panels and tables.
Beginning Your Woodworking
But where to start with woodworking (click here for the woodworking tool on kone tool)? What machines do you need? My suggestion is that you should start by doing some woodworking, and only after that start buying big equipment.
I don't mean that entirely literally. But I think it's best if you buy just a few tools and start using those. As you get more comfortable with what you have it becomes easier to understand what tools you should get next. That way you don't end up buying a workshop full of tools only to find out that you aren't really into woodworking. Let's begin, guys!